In today's technologically advanced world, the market is flooded with a plethora of AI writing tools, each claiming to be the best in the industry.
However, with so many options available, it can be an arduous task to distinguish the truly exceptional tools from the mediocre ones.
In this review, I will share my firsthand experience and insights after testing Writio for an entire month. My main goal is to assist you in making an informed decision about whether Writio is the right AI writing tool for your needs.
Over the past month, I've explored the features, capabilities, and overall performance of Writio, immersing myself in its AI-powered functionalities.
I really understand the importance of finding the perfect writing tool that aligns with your goals and requirements, and that's why I'm here to provide you with an unbiased and detailed review.
What is Writio?

You're a publisher, and you want to whip up some killer content that reels in readers like a fishing net. Writio's got your back.
You pick a topic that tickles your fancy, and boom! It starts churning out articles like a content factory. That way, you can spend less time sweating over words and more time jazzing up your content.
Now, let's keep it real. Writio is cool and all, but it's like a rookie in the AI content game. The stuff it spits out isn't as snazzy as what you'd get from other tools like Rytr.me.
But hold up, don't write it off just yet. Writio's the new kid on the block, and you know how those newbies can surprise you. I'm betting that as time goes on, the content it serves up will get juicier.
To summarize, Writio is an innovative AI writing tool developed recently by Ezoic. By the way, I've been utilizing Ezoic, a renowned advertising platform, for an extended period with my blogs.
This company offers a diverse range of products at your disposal. Notably, there's nicheIQ, seamlessly integrated into writio, along with Leap, a valuable tool designed to enhance your website's loading speed.
Click here to test Writio for Free Today!
Step 1: Unleash Your Website's Potential with Writio
Jumpstarting your journey with Writio is a breeze. Just as easily as you would install a WordPress plugin, you can integrate your website with Writio.
Voila! You've successfully linked your website to Writio. From here on, Writio is primed and ready to seamlessly populate your site with engaging and well-crafted posts.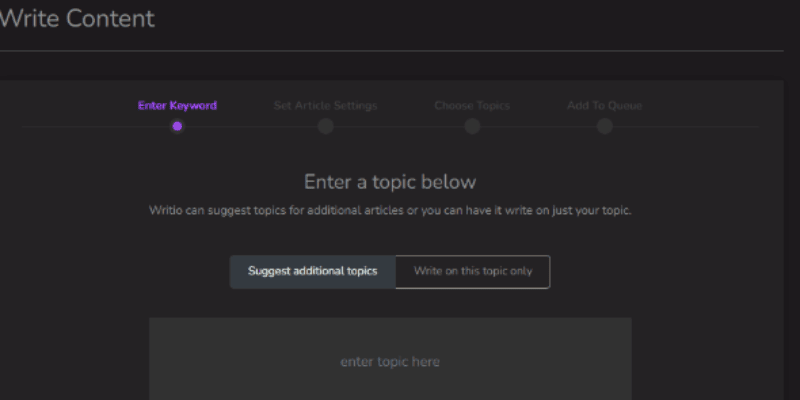 Step 2: Curating Your Content with Precision
With Writio, deciding what to write about is a cinch. Just type in a keyword or topic of your choice. If you want more variety, you can ask Writio to suggest 30 related topics. Then, pick the ones you like – each will be turned into a new article.
Writio lets you finetune your articles to fit your unique style and requirements. Choose who your audience will be and in what language the article should be written.
Also, you can choose your image type(AI-generated image or stock image), and your writing style (journalistic, casual, etc.)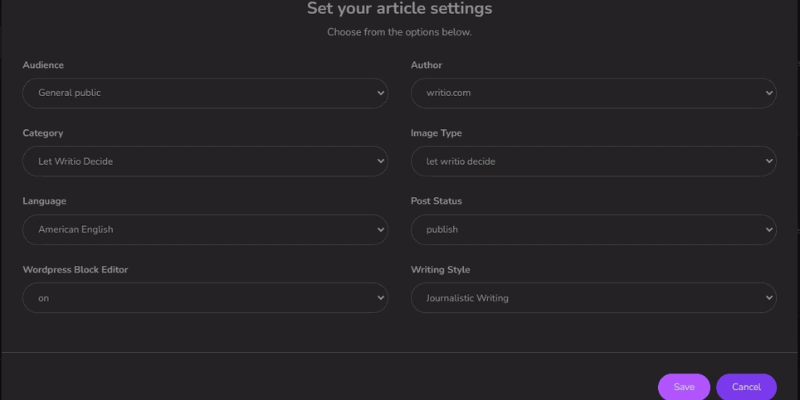 You can also specify details like the author's name, the article's category, and whether you want the article to be published automatically or saved as a draft for later review.
Step 3: Picking the Perfect Imagery
Immerse your readers visually by choosing the ideal image type for your article with Writio. Opt for AI-generated original images to elevate your rankings in image and unified search results.
Alternatively, let Writio curate relevant, royalty-free stock images that harmonize with your content. If you're unsure, simply trust Writio's judgment to select the optimal approach for each image.
To be honest, the images generated by Writio AI are very poor! Don't rely on it to produce high-quality images for your articles.
Step 4: Unleash Writio's AI-Powered Writing Prowess
Once your preferences are set, it's time to sit back and let Writio take over. Your chosen topics are lined up in a queue, and Writio, with its AI-powered capabilities, creates a specified number of articles each day, directly posting them on your website.
It's as efficient and consistent as having a 24/7 professional writing team, but it's all accomplished by our cutting-edge AI.
Step 5: Watch Your Articles Ascend the Search Ranks
In the following days, your freshly crafted articles will start to be indexed by search engines like Google and being their ascent up the rankings.
Writio keeps you in the loop by notifying you once your articles are indexed. This enables you to identify the most promising articles and fine-tune them further, optimizing your chances for a top spot in search results.
Step 6: Amplify Your Success
With each new topic, your site ranks for, you can channel that success back into Writio, thereby enhancing your site's authority.
This creates a virtuous cycle that propels your site's growth beyond your wildest expectations. Ezoic, the parent company of Writio, has watched hundreds of thousands of sites grow over the past decade.
However, none have ascended as swiftly and efficiently as those leveraging the power of Writio.
Features of Writio
Writio, a cutting-edge writing tool driven by AI and developed by Ezoic, is designed to help publishers in crafting top-tier content for their websites.
Offering an intuitive platform, Writio generates articles focused on selected subjects at regular intervals, fostering organic traffic growth and potentially elevating your website's search ranking.
There are some of the main features of Writio:
Customizable Author Attribution & AI Category Selection
Writio provides a versatile author attribution feature, giving you the flexibility to choose under which author's name the articles are published. Whether you want to assign them to different team members or have them all under a single name, the choice is yours.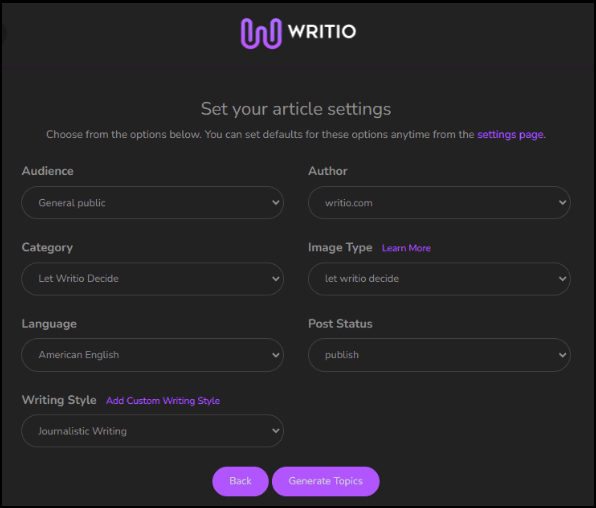 In addition, Writio can take on the task of categorizing your content. If you're unsure of the most fitting category for your article, Writio's AI Category Selection feature can analyze the content and automatically select the best match. Of course, if you prefer to handle this manually, you can always choose the category yourself.
This dual feature ensures that your content is not only well-organized and easy to navigate but also tailored to your team's structure and needs.
AI-Powered Topic Suggestions
By simply entering a keyword, Writio presents over 30 related topics, granting you a diverse selection. Not sure what to write about? Or looking to explore new content areas related to your niche?
Let Writio's AI do the heavy lifting! The AI-Powered Topic Suggestions feature can generate a list of similar topics based on your initial input. This not only expands your content possibilities but also sparks creativity and innovation, helping you stay ahead of your competition.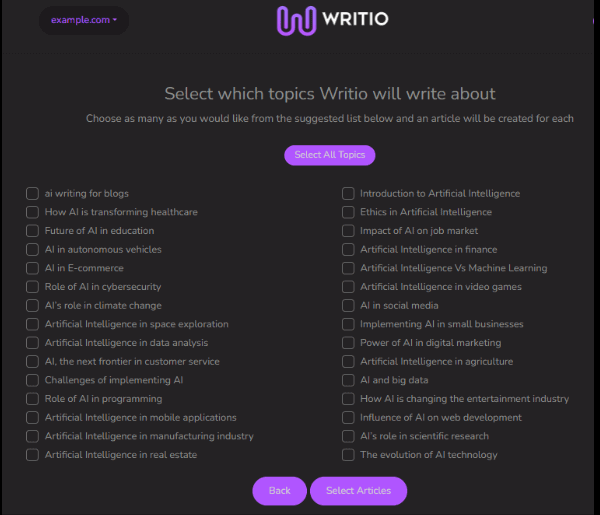 Customizable Writing Styles
Craft content to suit your audience's preference and your brand's voice with Writio's customizable writing styles feature. Whether you are in need of an in-depth journalistic piece, a vibrant creative writing snippet, or anything in between, Writio's AI can adapt its writing style to fit your requirements.
Whether you're targeting college students, professionals, beginners, experts, or any specific demographic, Writio's AI adapts its writing accordingly.
This feature allows the AI to consider your audience's interests, knowledge level, language style, and more, to create content that truly resonates with them. With Writio, you are not just reaching your audience, but truly connecting with them through tailored content.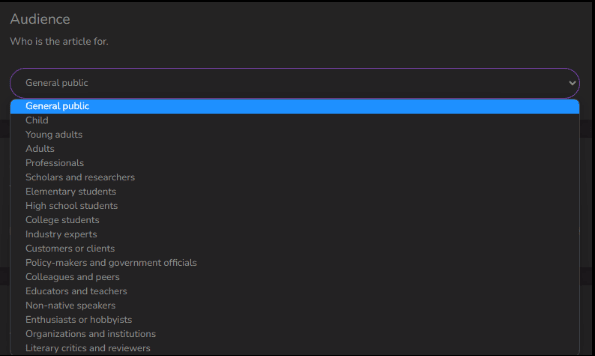 Personalized AI Training
With Writio, you're not only getting an AI content writer, but one that can mimic your unique writing style. The AI Personalized Training feature allows you to upload samples of your own writing.
Writio's advanced machine learning algorithms then analyze and learn from these samples, enabling it to create content that reflects your distinctive voice.
This feature is perfect for maintaining a consistent tone across all your content, making your brand more recognizable and relatable to your audience.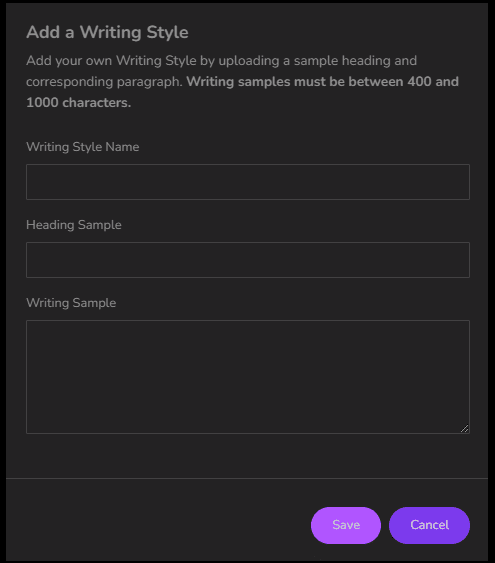 With Writio, you can have the benefits of AI efficiency and the personal touch of your unique writing style all rolled into one.
AI-Powered Image Creation & Auto-Embedding
With the AI-Powered Image Creation feature, you can generate unique images tailored to fit the theme and tone of your article. This feature uses advanced AI algorithms to design bespoke images that align with your content, enhancing its visual appeal and making it more engaging for your readers.
Alternatively, if you prefer ready-to-use visuals, Writio's Auto-Embed Stock Images feature can automatically select and embed relevant stock images into your articles. This ensures that you have visuals complementing your text, adding depth and richness to your content.
To be honest, the images generated and suggested by Writio are very poor! I recommend using other platforms to get relevant images for your articles!
Multilingual Capability
Thanks to Writio, you can write in an astonishing 39 languages and dialects, allowing you to create content that truly resonates with diverse audiences across the globe.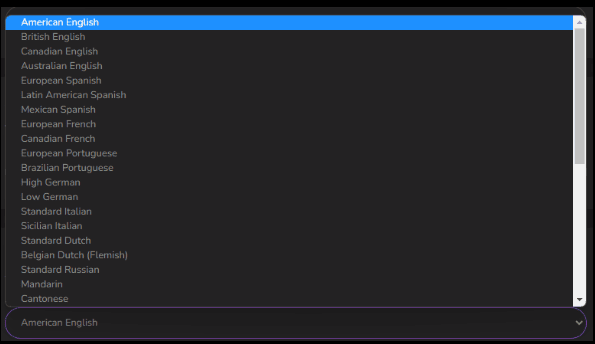 Whether you're targeting a local market or looking to expand internationally, Writio's multilingual feature ensures your message is accurately conveyed, regardless of the language your audience speaks.
Automated Publishing
Daily articles centered on your chosen themes are created, complete with fitting visuals. You retain the choice to promptly publish or save them as drafts.
Article Performance Tracking
Writio diligently monitors each article's performance post-publishing, promptly alerting you when it garners a Google ranking and discreetly removing it if the ranking dips.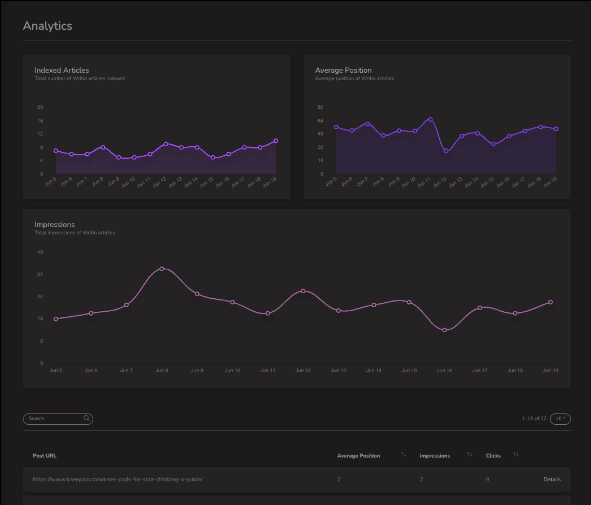 Seamless WordPress Integration
For those operating WordPress-powered websites, the seamless integration of Writio with this platform is a boon. Writio's innate compatibility with WordPress streamlines your content creation process.
Drafting, editing, and publishing content directly from the writing tool eliminates the hassles of copying, pasting, and formatting. This ensures that your focus remains firmly on the content itself, thereby enhancing your workflow's efficiency.
Writio pricing


Click here to test Writio for Free!
Pros &Cons of Writio
Strengths of Writio
The beginning step towards understanding Writio's capabilities is appreciating its intuitive nature coupled with a user-friendly interface. These attributes make navigation and task accomplishment an easy feat for the platform's users.
Notably, the user interface's simplicity does not compromise Writio's rich feature set, making it a comprehensive solution for myriad writing needs.
Adding to Writio's appeal is its ability to adapt to various writing styles and genres. This means users can leverage it for diverse writing tasks – from crafting research papers and blog posts to constructing press releases. This adaptability renders it a suitable choice for both personal and professional writing scenarios.
Another commendable quality of Writio is its powerful grammar-checking feature. With this tool, users can sidestep grammatical errors and misspellings, thereby enhancing the quality of their output. It has been applauded for its remarkable precision in identifying even the smallest of errors, a skill that sets it apart from many other similar offerings.
Rounding up Writio's strengths is the noteworthy collaboration tool it offers. This feature empowers multiple users to work simultaneously on a single document, a capability extremely beneficial for teams collaborating on shared projects.
Weaknesses of Writio
Despite its remarkable features, Writio has some setbacks. One typical concern from users is its pricing model. Despite offering a free version, access to Writio's advanced features comes with a relatively high cost.
The paid plans can be somewhat expensive for individuals or small businesses on tight budgets.
Another weakness is Writio's lack of offline accessibility. This software is primarily cloud-based, meaning that you require an internet connection to use it.
The unavailability of an offline mode could limit productivity during periods of internet downtime or in regions with poor connectivity.
Performance issues have also been flagged as an area of concern for Writio. Some users have reported slowdowns when working with larger documents, which can be frustrating for those on tight deadlines.
Last but not least, although Writio's grammar-checking function is generally impressive, it has been criticized for its inability to identify more complex grammatical issues. In such cases, human proofreading might still be necessary to ensure high-quality writing.
Insights and Inferences
Writio, as a comprehensive writing management tool, garners attention with its impressive feature set. The platform's simplistic interface, robust grammar check tools, extensive application use, and collaboration capabilities can considerably bolster overall writing processes and efficiency.
However, a complete evaluation also necessitates an understanding of potential drawbacks associated with Writio. The platform's pricing structure, the absence of offline accessibility, and occasional performance lags with substantial files could pose challenges.
Besides, the grammar-checking feature, though powerful, has certain limitations. Acknowledging these pros and cons will equip potential users with the necessary knowledge to discern if Writio aligns with their requirements.
What is the target audience of Writio?
Bloggers in search of a consistent stream of superior content Digital marketing experts committed to propelling organic traffic to their clients' websites Small business proprietors in pursuit of an AI-driven solution to enhance their online footprint.
Through harnessing Writio's efficient AI writing capabilities, you can streamline your workflow, curtail manual labor, and cultivate a content-rich website primed to captivate your desired audience.
Ezoic's Integration Background Ezoic stands as a platform that orchestrates optimal ad placements to maximize revenue for publishers. As an officially endorsed Google partner, Ezoic leverages artificial intelligence (AI) to amplify ad-generated revenue and enrich user experience on websites.
Through AI, numerous publishers have realized substantial earnings growth, surpassing what they achieved through Google AdSense or alternative ad networks.
Synergy with Writio Incorporating Writio, Ezoic's AI writing tool, into your publishing regimen, can augment content quality and relevance for your readership.
This fusion of Writio and Ezoic heightens overall website performance and user satisfaction.
User tips
Provide the tool with all the details of your query, regenerate answers when you're not satisfied with a particular result, and edit your keywords.
This approach will help you discover the full potential of Writio. Have fun!
Although Writio is a powerful tool, it does have its limits. The platform can still generate incorrect sentences, and make grammatical mistakes like any AI content generation software, but this should improve as AI technology evolves.
In addition, Writio has a limited knowledge base, even though it has been trained on large amounts of data. It's important to take the answers with a grain of salt and not rely solely on the site for important tasks.
Why Writio Wins Over Other Writing Software?
The combination of these features makes Writio stand out amongst other writing software. While other programs may provide similar functionality, Writio's intuitive design and unique tools make writing and editing more efficient and sophisticated.
The software is tailored for various types of writing styles and caters to the various needs of different users. Each feature has been carefully curated to help writers enhance texts, stay motivated, and deliver high-quality work consistently.
The versatility of Writio is what sets it apart, its wide range of features making it a one-stop solution for all writing needs.
Click here to test Writio for Free Today!
Recommendations for Improvement
Though widely praised, Writio does have some areas that users suggest could be improved. Some users have expressed a wish for greater customization options within the tool.
This includes features such as customized fonts, color themes, and layouts that could allow writers to personalize their interface even more.
Additionally, users have also called for the integration of grammar and spell-check features, which could elevate Writio to an even more comprehensive writing tool.
FAQ about Writio
How good is the writing?
For most topics, the writing is high quality. The core writing is done by a finely tuned GPT-4 model and process designed specifically for the most common website content formats.
How long are the articles?
Articles vary in length based on the complexity of the topic you select and the appropriate content format. The current average is fairly long, around 2,000 words, but we are currently working on adding more granular controls of article length.
From my experience, the length of articles depend also on the plan. The free trial always gives a standard quality with no more than 1,500 words per article.
How do I get the content and do I get to keep it?
The content is automatically published to your WordPress every day, either live or in draft form. You can also download the content and the content is yours to keep.
Where are the images from and do I own them?
Writio automatically matches images to your content but there are two types of images – either AI-generated or stock images. AI images are yours (subject to your local laws) and the stock photos are not but are royalty-free (subject to their attribution rules).
What happens if I don't use my daily or weekly articles.
Article quotas do not carry over to the next day/week/month and must be used during the time period allotted.
Is there a trial or free version for Writio?
Writio gives you a free trial of up to 4 articles per month. After that you will have to pay.
Who is Writio?
Writio is a project made by Ezoic, designed for publishers. Ezoic is the largest publisher platform working with more than 30,000 publishers reaching more than 1.2 billion people a month.
Overall Evaluation
Overall, Writio is valued by experts and users for its simplicity and functionality. It caters effectively to the needs of a diverse audience of writers. However, users express a desire for continued development, particularly in features that might further improve the user-friendliness and self-expression within the tool.
These collective opinions of industry experts and real users offer a balanced perspective on the effectiveness of Writio as both a tool and as a company.
Ultimately, Writio emerges as a powerful tool that can revolutionize the traditional writing process. While offering a myriad of innovative features, it effectively addresses critical issues that users commonly face, instilling a higher level of convenience and efficiency.
The varied experiences and insights shared by experts and regular users alike attest to the considerable potential of this software. However, as with any technology, Writio is not devoid of its challenges and areas of improvement.
It is this constant scope for refinement that signifies the dynamic nature of digital tools in their quest to continually enhance the user experience. Potential users are advised to consider their personal and professional needs in sync with the strengths and potential limitations of Writio to reap their optimal benefits.
Revolutionize your content creation with Writio, the AI-powered writer that crafts high-quality articles effortlessly. This page was authored by Writio.
Click here to test Writio for Free!