We're going to examine the main insights of the Twitter Pestel analysis in this article. We aim to investigate how international business environment factors affect Twitter, Inc in 2022.
This free pestle analysis example will help you better understand the relevance and uses of the PESTEL framework.
Social media industry overview
The social media industry has been one of the fastest growing industries in the technology market and one of the most profitable markets in recent years.
Everyone knows the American social networking giants like Facebook, Twitter, Youtube, and Pinterest. Yet, the social media market includes many large international companies that dominate their local markets, such as China's social media conglomerate Tencent, Japan's LINE messaging app, and Russia's search giant Yandex.
The number of social media users has more than doubled since 2010 to over 2 billion and is expected to reach nearly 3 billion by 2020. In addition, recent research has shown that 75% of people worldwide use social networks.
By 2021, the social media market will have generated 51 billion dollars in total income. Moreover, the number of users and revenues of the social media market are continuously improving!
Twitter overview:
Twitter is a social media platform where users can post and engage with messages called "tweets." Jack Dorsey, Noah Glass, Biz Stone, and Evan Williams founded Twitter in March 2006, and it became public in July of the same year.
With more than 25 offices worldwide, Twitter, Inc. is a California corporation with its headquarters in San Francisco. Here are some recent key statistics about Twitter:
Total number of daily active users in 2022: 217 million;
Total number of tweets sent per day: 500 million;
Total Twitter revenue in Q4 2022: $1.57 billion;
Twitter turned 16 in March 2022.
Twitter Inc. operates in a very complicated and fast-changing environment shaped by regulatory shifts, collective social trends, technological changes, and an evolving legal system.
Let's move on to the Pestel analysis for Twitter!
PESTEL analysis of Twitter, Inc 2023
Right now, We will present the results of our research about the Twitter macro environment.
For this reason, we will examine the political, economic, social, technological, ecological, and legal influences on Twitter's performance.
Let's start with the impact of political factors on Twitter's performance.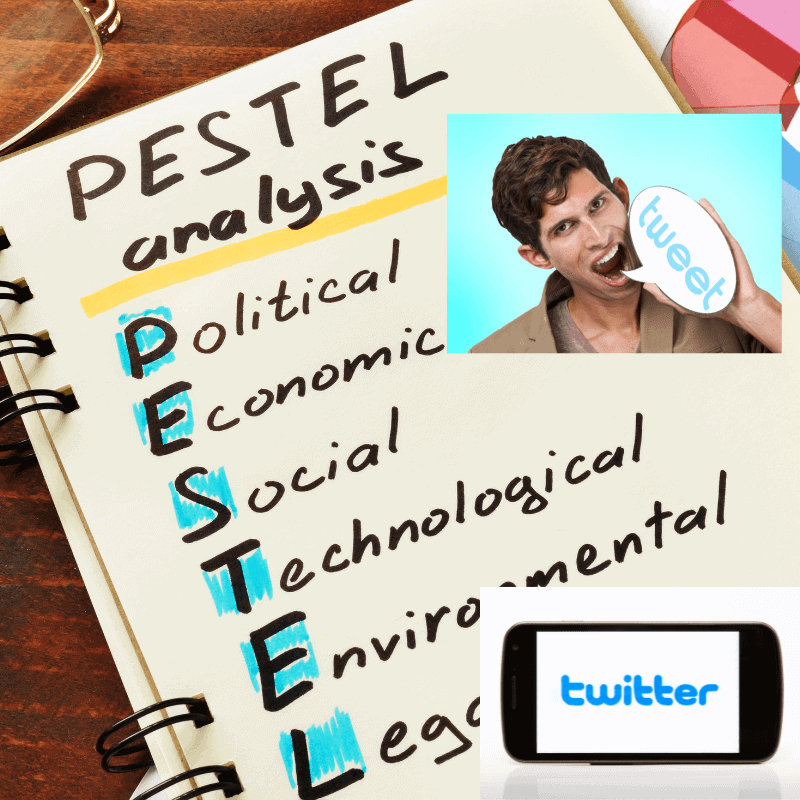 Political factors
It is evident that the international political environment impacts the performance of companies that operate in the social media industry, like Twitter.
Also, the political scene is influenced by social media. As proof, Twitter is banned in China, Iran, and North Korea due to the political differences between the United States and these Asian countries.
Also, Russia has banned using Facebook and Twitter in recent months due to the war in Ukraine and the political tension between the two countries.
In short, the political conflicts between the U.S. government and other countries seriously threaten the growth and profitability of U.S. social media platforms like Twitter.
In addition, social networks allow people to express themselves freely without needing the traditional press. However, several political systems have accused Twitter of not sufficiently controlling the spread of false information and contributing to the misappropriation of facts.
Moreover, several governments have issued sanctions and fines against American social media companies in recent years.
Economic

factors
On the one hand, the worldwide economic environment significantly impacts the performance and profitability of giant multinational companies like Twitter.
Therefore, the major economic indicators such as the inflation rate, the unemployment rate, labor market conditions, and the interest rates of each country influence positively or negatively the growth of the companies present there.
Thus, Twitter's top management should consider the changes in these economic indicators to face the different threats and take advantage of the opportunities present in each market.
Moreover, the business profitability of Twitter Inc. is impacted by the budgets that the host country's government has spent on core infrastructure development. A well-developed infrastructure facilitates the business environment and increases the growth potential of the industry in the respective country.
On the other hand, nobody can ignore the harmful effect of the COVID-19 crisis on consumer spending worldwide.
As a reaction, most companies have been pushed to decrease their digital advertising budgets on social media platforms like Twitter and Facebook Ads.
So, American social media giants like Twitter have noticed a temporary drop in revenues, especially at the beginning of the health crisis.
Let's be clear. Digital advertisement is the primary source of revenue for these companies. So, any austerity policy implemented by companies selling their products and services online is a significant threat to the profitability and sustainability of Twitter.
Social factors
Vital social factors such as demographics, education levels, lifestyles, family structure, and other parameters inevitably influence all businesses' long-term profitability and growth.
Let's start with the potential opportunities of Twitter's social environment:
According to recent statistics, we have noticed that most Twitter users in the United States, for example, are young people between the ages of 25 and 34.
Thus, generation Z, also called digital natives, is an ultra-connected generation, and the time spent on their screens is constantly increasing.
Also, emerging countries in Asia (India, Pakistan), Africa (Egypt, South Africa), and Latin America (Brazil) are experiencing a constant increase in birth rates and population numbers.
All this data is a promising source of opportunities for Twitter in the future. These factors will enable social media firms to enhance their performance continuously, grow their subscriber numbers, and guarantee their longevity in the long run.
Nevertheless, because of the overuse of social networks and their harmful effects on people's mental health, many recent studies have focused on information fatigue.
The term "infobesity" was initially used to describe people's information overload in 1996 by American author David Shenk.
It was referred to as "a new sort of brain pollution induced by an excess of knowledge" by the French scientist Jol de Rosnay, who specialized in the effects of new technology on businesses. And the development of 21st-century technologies has made the problem more prominent.
Technological factors
The technological environment examines technological innovations in an industry, such as social networking platforms. These technological advancements may create enormous potential for businesses, or they may, on the other hand, pose severe risks to their operations.
Social media firms like Twitter continually invest vast amounts of money into researching and developing new technologies and functionalities like virtual reality, augmented reality, and artificial intelligence to preserve their market positions and compete with rivals.
Undoubtedly, one of the most critical success factors for any business operating in the social media sector is the capacity to adopt new technology solutions. The fact that Internet consumers are always looking for cutting-edge services is proof enough.
Missing out on these technological advancements could result in a decline in market share for social media companies. The technical challenge is enormous!
Environmental

factors
The new policies and guidelines for environmental protection and sustainable development are referred to as ecological influences.
These ecological restrictions are now sources of serious threats that could compromise the sustainability of companies like Twitter.
And the social media area is not excluded from these pressures from green associations, NGOs, and governments!
Infrastructures such as data centers and Internet routers are necessary for the excellent running of social media companies. But, unfortunately, there is no doubt that all these elements hurt the planet.
Legal

factors
Regulations, including labor laws, trade laws, data protection laws, and other laws, are subject to change in the legal environment of each country where Twitter is present.
A lot of personal information about users is saved on social networking platforms. As a result, Twitter must follow and enforce some rules and regulations. If not, Twitter will risk facing future fines that are enormously high!
For instance, the most well-known Twitter scandal occurred in July 2020, when a 17-year-old ex-Minecraft scammer got control of over 130 accounts belonging to public figures, world leaders, and celebrity influencers. He did this without the use of any sophisticated technology.
The 17-year-old scammer called the Twitter headquarters and pretended to be from the IT Department. He then directed staff members to enter their admin credentials on a phishing website to get the certifications.
Within a few hours, he had control of Twitter. A total of $118,000 worth of bitcoin was stolen in the hack.
Many Internet users are beginning to worry about the security and privacy of their data in the context of the famous Cambridge Analytica scandal. In addition, Twitter and Facebook, the most popular social networks, are frequently the subject of legal debate.
In conclusion, social media companies like Twitter will face, in the following years, several threats and risks due to the legal environment.
Final thoughts
In this Pestel analysis example, we have attempted to illustrate the significant opportunities and threats related to the macro business environment of the Twitter corporation.
PESTEL is a famous strategic tool to analyze the macro environment of an organization. PESTEL stands for – Political, Economic, Social, Technological, Environmental & Legal factors that impact the sustainability and profitability of Twitter, Inc.
As a result, it helps managers of Twitter to make the right decisions related to the strategic choices of their company through the anticipation of current and potential market opportunities and threats.
However, the Pestel analysis alone can not examine your company's environment. Thus, we recommend you use other strategic planning tools and frameworks, such as Porter's Five Competitive Forces model, the VRIO model, and the SWOT analysis.
Pestel analysis examples 2023
In order to better understand the Pestel analysis, we invite you to read our recent free examples of the Pestel framework.
Netflix Pestel Analysis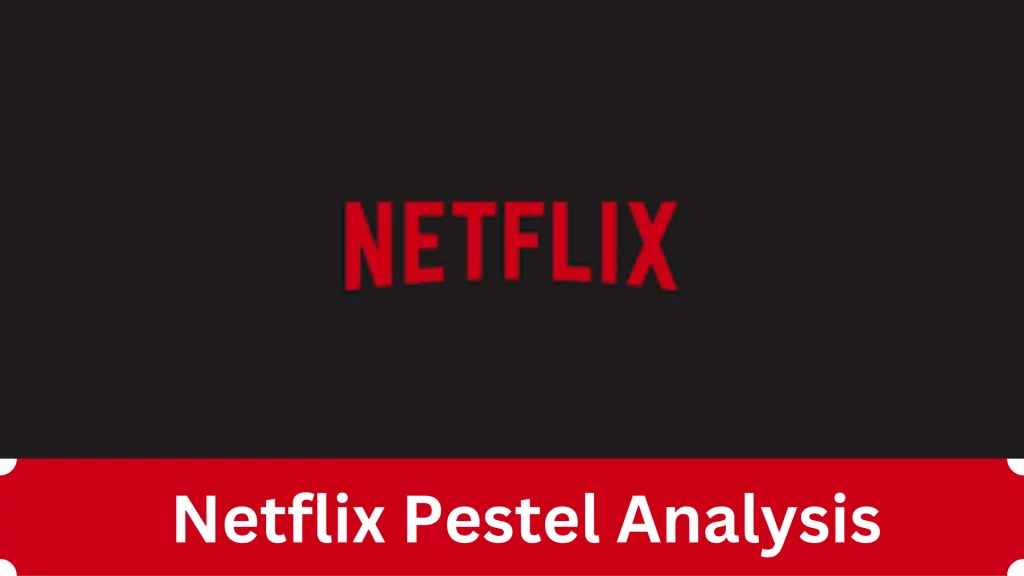 Click here to read our full article about Netflix Pestel Analysis of 2023!
Apple Pestel Analysis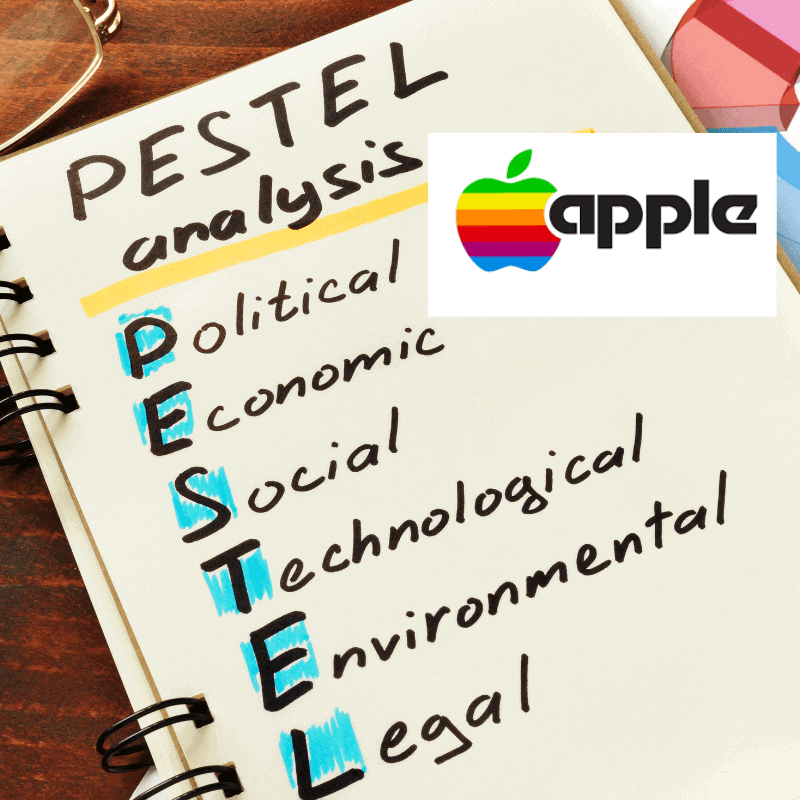 Click here to see our example of the Apple Pestel analysis.
Tesla Pestel Analysis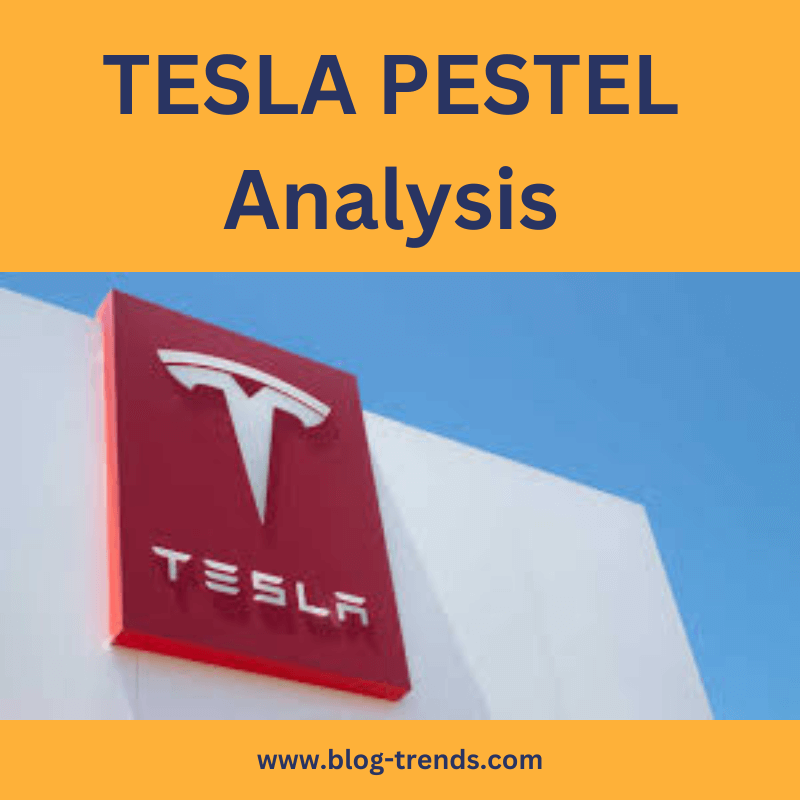 Click here to see our example of the Tesla Pestel analysis.
Facebook Pestel Analysis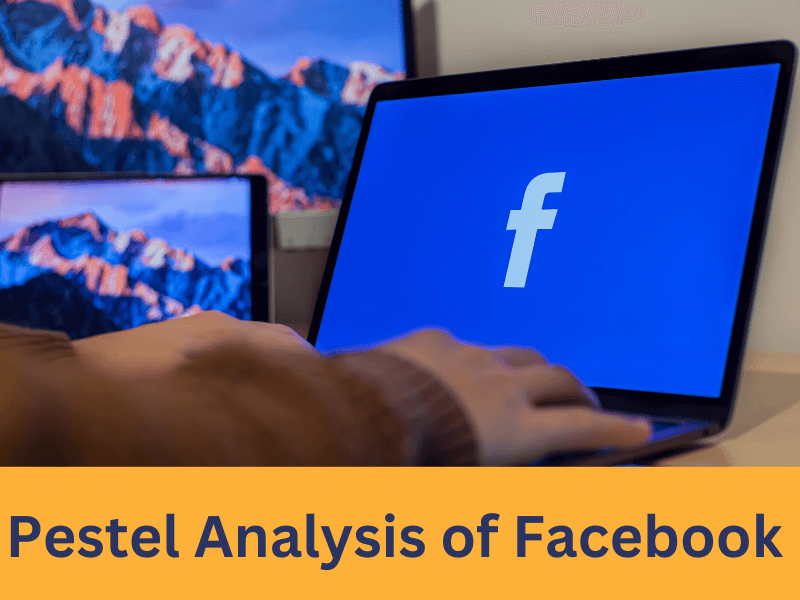 Click here to see our example of the Facebook Pestel analysis.
Pestel analysis of the Social Media industry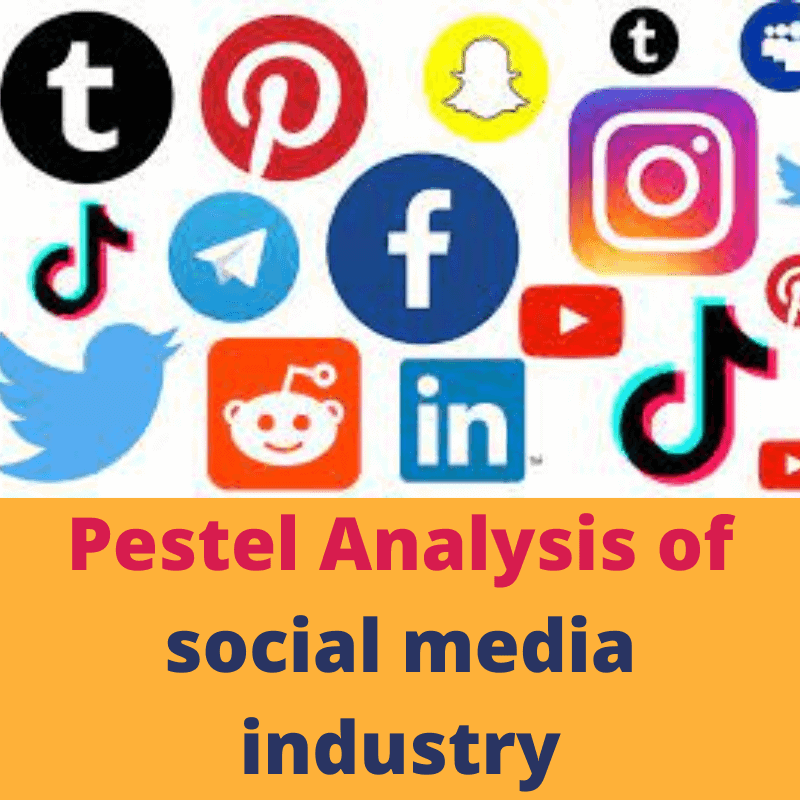 Click here to read our example of the Pestel analysis of the Social Media industry.
IKEA Pestel Analysis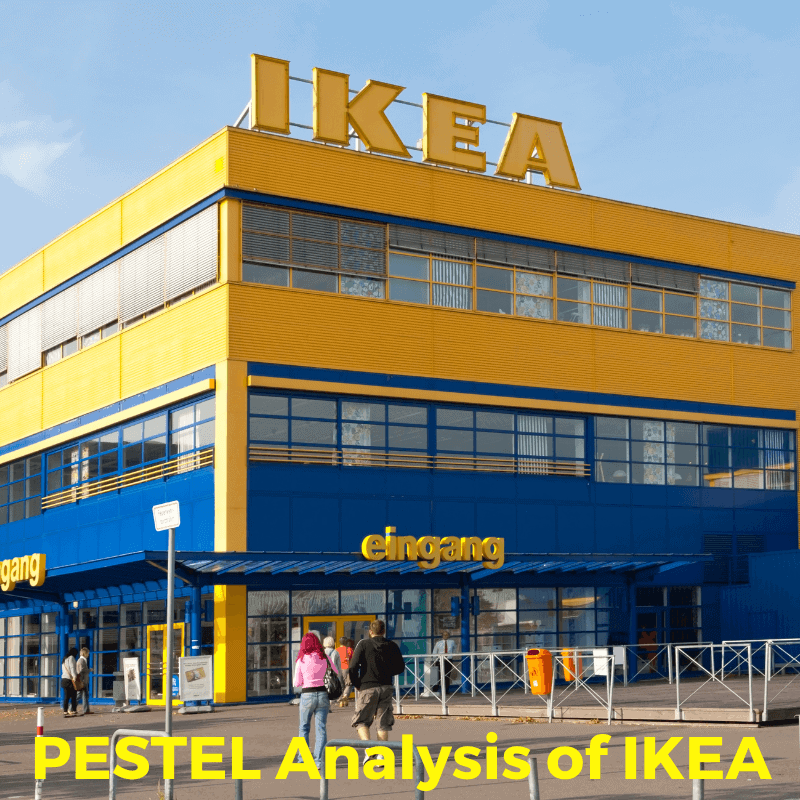 Click here to see our example of the IKEA Pestel analysis.
Pestel analysis definition
It is useless to remind the impact of the environment on the activities and performance of companies. Therefore, the PESTEL analysis, also known as the PEST or PESTLE, focuses on the study of the global environment of your company.
Pestel analysis is a famous strategic planning tool that identifies and examines opportunities and threats in the macro-environment of your company.
PESTEL is the acronym for six primary components of the environment of a market: Political, Economic, Social, Technological, Environmental, and Legal.
The ultimate goal of this analysis framework is to anticipate and adapt to the various changes in the macro-environment of your industry. As a result, your company can make the most of the opportunities and better prevent environmental threats.
Advantages of Pestel analysis
Simple and easy to implement external strategic analysis tool;
Relevant and efficient tool: allows you to identify all the factors of the macro-environment that can influence the performance of your company;
Help managers anticipate changes in the business environment;
Make the most of current and potential opportunities in the business environment;
Prevent and better prepare for current and future threats and risks in the business environment;
It is a very versatile tool: apart from strategic planning, Pestel analysis is used for various purposes. You could use the Pestel framework for synthesizing a documentary study in the framework of a market study. The Pestel analysis can also be used to elaborate the annual marketing plan and evaluate a new project.